Profile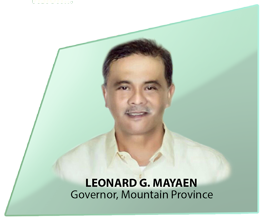 Born September 15, 1958, Governor Bonifacio Calde Lacwasan Jr. has a colorful political career on his own that few local politicians have accomplished. He is fondly known to his constituents as "Boni". He entered politics in 1994 as a Punong Barangay (Barangay Captain) in Otucan Sur, Bauko at the age of 35. For 13 years, he served as a barangay captain and during his stint, he was elected as ABC president thus, becoming an Ex-Officio Sangguniang Bayan Member on July 1, 1997. Thereafter, he assumed as an Ex-Officio Sangguniang Panlalawigan Member in August of that year.
As an SP Ex-Officio Member, he looked after the general welfare of the different barangays in the province. His outstanding performance led his election as SP Ex-officio member for three consecutive terms.
In 2007, Lacwasan Narrowly lost his bid for the gubernatorial post. After 3 years, he came back after winning the vice-gubernatorial race in 2010. He later made history in the province when he was unopposed on his second vice-gubernatorial bid in the 2013 elections. He again gained a one sided victory on his reelection bid in the 2016 elections.
Following the untimely death of then governor Leonard G. Mayaen last March 31, 2016, Lacwasan held the Provincial Governor post from Aril 5, to June 30, 2016. Last July 1, he assumed the gubernatorial post after the Commission on Elections (First Division) directed to act as acting Governor in accordance with the injunction order it has issued.
Lacwasan was born in Otucan Sur, Bauko Mountain Province on September 15, 1958. He finished his AB-Major in Economics degree at the University of Manila in 19982. He is married to Jonaliza Sapki and they blessed with four children. //Erwin S. Batnag